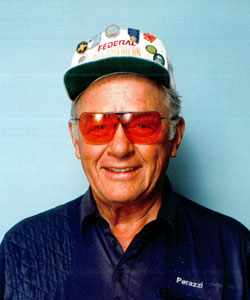 Dan Orlich, a native of Minnesota, went to Nevada as a student at the University of Nevada, Reno and returned there to live after a three year stint with the Green Bay Packers as an end.
In 1952, after returning to Reno, he went to work for Harold's Club and took up the sport of trapshooting. The rest is history.
Some of Dan's major accomplishments include:
• Grand Pacific Singles Champion in 1956,1957,1958,1961,1962,1964,1965,1968,1969, and 1973
• Grand Pacific Handicap Champion in 1969
• Grand Pacific Doubles Champion in 1955,1958,1961, and 1969
• Grand Pacific HOA in 1956,1957,1958,1959,1961,1962,1964,1965,1966,1968,1969,1970 and 1971
• Grand Pacific HAA in 1957,1958,1962,1965,1966,1968,1969, and 1971
• PITA All Star Team in 1956 and 1958
• Nevada State Singles Champion in 1958,1960,1961,1962,1964,1965,1966,1968,1969 and 1970
• Nevada State Handicap Champion in 1968, 1969, 1970
• Nevada State Doubles Champion in 1957,1958,1959,1960,1961,1963,1964,1966, and 1969
• Nevada State HOA in 1966 and 1969
• Nevada State HAA in 1960,1966, and 1969
• 400 x 400 in the HAA (3 hole targets)
• Long run of 1129 in singles
• At the time of his induction, he carried the highest Singles average in PITA: .9982
Dan was chosen Nevada Athlete of the Year in 1957 and his award was presented by the Lt. Governor. Dan was also inducted into the Nevada State Athletic Hall of Fame.
Dan's friendly outgoing personality along with his modesty regarding his accomplishments, makes him admired and respected not only as a champion, but as a person.