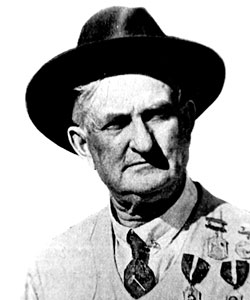 In 1911 O.N. Ford came west to California and took charge of the San Jose Gun Club for seven years, later moving to the Olympic Gun Club for two years. In 1920 he moved to Oregon and took over the Portland Gun Club at Eberding Park, where he proceeding in making shooting history.
In his stay of five years at Portland, he threw 1,500,000 (or 15 carloads) of clay targets. Mr. Ford then moved back to California taking over the Del Monte Gun Club where he was in command for twelve years.
Following a trip to the Grand American in Vandalia, Ohio, Mr. Ford felt the Pacific states were not being fairly represented by the Amateur Trapshooting Association. On October 25, 1931 Colonel Ford called a special meeting of prominent sportsmen from all western states and Canada, at Portland, Oregon and organized what is now known as the Pacific International Trapshooting Association.
O.N. Ford sponsored the first ladies trophy in the PITA and organized the Ford Cash Purse System.
Colonel O.N. Ford was elected President of the PITA on July 23, 1938 at Portland, Oregon and never was a more befitting honor bestowed upon to worthy a character. The most colorful trapshooter at that time.
OUT WHERE THE P.I.T.A. BEGINS
Out where the handclasp's a little stronger
Out where the smile dwells a little longer
Out where the P.I.T.A. begins
Out where the sun is a little brighter
Where the snows that fall are a trifle whiter
Where the bonds of home are a wee bit tighter
That's where the P.I.T.A. begins
Out where the skies are a trifle bluer
Out where the friendship's a little truer
That's where the P.I.T.A. begins
Out where the Pacific breeze is blowing
Where there's laughter in every streamlet flowing
Where there's more of reaping and less of sowing
That's where the P.I.T.A. begins
Out where the world is in the making
Where fewer hearts with despair are aching
That's where the P.I.T.A. begins
Where there's more of giving and less signing
Where there's more of giving and less buying
And a shooter make friends without half trying
That's where the P.I.T.A. begins