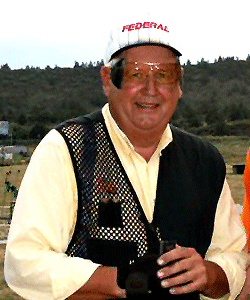 Anyone that has ever heard of trapshooting has heard of Daro Handy. Daro is one of the most controversial and talented trapshooters this sport has ever known.
Daro was in the Air Force for over four years and during that time he won the European Championships and the Cup of Nations. Daro was the only American to have won these titles. Since his discharge he has registered over 500,000 targets. At the time of his induction, Daro had broken over forty 100 straights and a long run of 505 in handicap, had over thirty five 100 straights in doubles and a long run of 1,200 in singles. Daro was on the All-Star team for 24 consecutive years and had been Captain 15 times.
Among Daro's many titles are 18 championships at the Grand Pacific and over 43 Oregon State Championship titles. In 1990, he won all five championship events (singles, handicap, doubles, HOA, and HAA) at the Oregon State Shoot.
In 1963 Daro received seven yardage punches for known ability while never winning a handicap. He would have broken five more 100 straights in handicap, but missed his 100th target each time.
If there is anyone in the world of trapshooting that deserves to be in the Hall of Fame, it is Daro Handy.