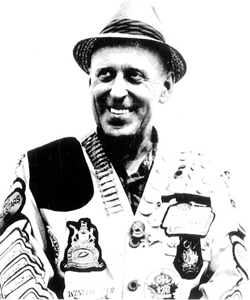 Earl Caldwell is considered to be the most outstanding trapshooter in British Columbia history. Some of his many accomplishments are:
• 9 times PITA All-Star Team
• 7 times All Canadian Trap Team
• 12 times BC Trap All-Star Team
• 11 time Provincial Champion
• 6 times Doubles Champion
• Long runs of 327, 289, 287
• 9 times BC Skeet Champion – all gauges
• Canadian Singles Champion 494 x 500
• Canadian Doubles Champion 2 consecutives times
• Member of Canadian team with 498 x 500
Earl represented Canada in Melbourne Australia in the Olympic Games. He was the winner of well over 300 titles in trap and skeet. He was inducted into the British Columbia Sports Hall of Fame.
In 1946, Earl started his True Flight Target in the basement of his house and turned it into a family business that is still in operation.
Earl was a true gentleman, a great competitor and will remain a great credit to the sport of trapshooting.