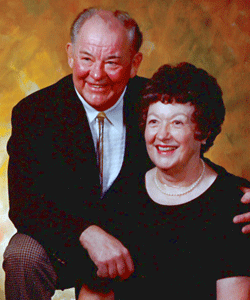 The Hull's were the Executive and Assistant Secretary of the PITA for 23 years, longer than any other individuals in those positions. During their time they helped the PITA grow from a poor, relatively weak organization into a prominent organization with sizable reserves and operating capital. They visited many clubs, large and small to promote the PITA and registered shooting.
Gordon and Dolly operated the PITA office in a very efficient and timely manner with yearbooks and programs out early even though all posting was done by hand and all typing with a manual typewriter.
They were always anxious to help shooters, club managers, and state and provincial association officers. They were knowledgeable about all aspects of shooting, trap operation and setting, cashiering and rules. They provided their knowledge to any who needed it with a gracious smile. Those who shot while the Hulls were in office would surely agree that when anyone thought of PITA, they thought of the Hulls.