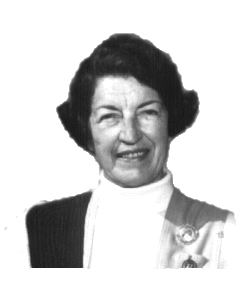 Of the top women shooters of all time, Hortense Wood Hardesty was one of the best. She registered her first PITA targets in Utah in 1940 and won her first Lady PITA Championship title in 1949 and the Utah State Singles Championship the same year.
Hortense won the Utah State Singles title in 1951-52-53-54-55-58-59-60-63-65-66-69-70-71-72, The Doubles Championship in 1960-66-67-72 and Handicap in 1955-59-60. In 1956 she set the Ladies Singles record of 975 x 1000 in a marathon, a record that stands to this day.
She was the Ladies Singles Champion at the Grand Pacific in 1962-62-65-66-67-71-74-75. Hortense is remembered by many as the best lady shooter of her time.