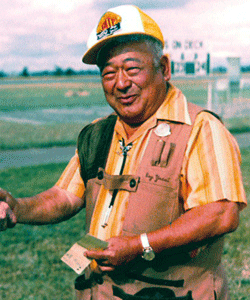 Ray Yasui was born in Hood River, Oregon and lived there all his life. Ray had a very successful orchard business in the Hood River Valley. He and his wife, Mikie, raised three children: Joan, Thomas and Philip. Ray was also very proud of his five grandchildren.
Ray was Chairman of the Board of the Diamond Fruit Growers of Hood River, on the Board of the Northwest Cherry Growers and on the Board of Directors for Oregon AAA. He was appointed to the Oregon Board of Higher Education by Mark Hatfield, Governor of Oregon. Ray was also the founder of the Hood River – Tsurata Sister City Association and co-founder of the Hood River Youth Baseball Association. He was elected to the Oregon State University Agricultural Hall of Fame. Ray was awarded the Seventh Degree Medal by the Emperor of Japan for promoting US and Japanese relations. He was also the founder of the Hood River High School Scholarship Fund. His local activities included the Fire Department, Japanese-American Citizens League and scholarship fundraising. One of Ray's biggest honors was when the local hospital named the new dialysis center after him.
Ray served as President of the PITA from 1964 through 1966 and was a member of the Central Handicap Committee in 1961-1962-1963-1969-1970-1971 and 1972.
At the time of his induction, Ray had shot 200,000 targets. Ray had a passion for life and a commitment to his family, his orchards, his community and the PITA. Ray considered the PITA his baby. Much like his orchards, he enjoyed nurturing it and watching it grow. The main reason the PITA Hall of Fame was started was to honor dedicated people like Mr. Ray Yasui.