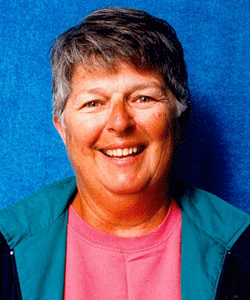 Since Betty began shooting in 1957 and up to the time of her induction, she has won so many top events there is not room for us to list them all.
Among the most notable wins are: Twenty nine events at Washington State Shoots, including three doubles titles, two handicap titles, three HAA, four HOA and seven singles titles including Washington State Singles Champion after breaking 200 and winning the shoot-off.
Betty continued her winning at the PITA Grand Pacific where she has won 34 Grand events including 4 HOA, 5 HAA, and 3 Champion of Champions. Most of the wins were against all shooters, not just the ladies. Betty has been on the ladies All Star Team 9 times, with the highest average most of the time.
Betty has also accomplished something that most shooters have never achieved, winning the Championship Singles at both State shoots in Washington: the PITA (200 x 200) and the ATA (199 x 200), shooting against some of the best shooters in the country. Betty has won many out of state and out of province HOA and HAA shooting against all shooters.
Betty was inducted into the Washington State ATA Hall of Fame in 1998.
She is a top competitor among men as well as women. Betty has accomplished most of these feats from the 27 yard line. There has been a lot of talk among men shooters about forming a club with all the men that Betty has beat in shoot-offs. The members will be many.