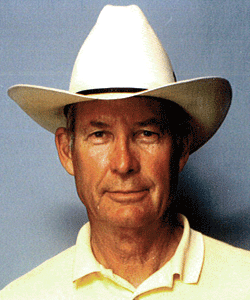 Roy A. Tiegs grew up in the Yakima Valley and moved to Puyallup, Washington. He is a U.S. Air Force veteran and an alumni of Washington State College, graduating cum laude in pharmacy-chemistry. He and his wife Shirley have four children: Roger, Salli, Russell, and Sharel. Roy started shooting on 1968 with a $ 90, field grade Model 870. At his first shoot in Tacoma, he won C Class with a 96. He started out fast, breaking twelve 100 straights in his early years with many more 100's to follow. In 1971, Roy became the first shooter to win the Golden West Grand from the 27 yard line (with the 870). He started that shoot on the 24 yard line.
At the time of his induction into the Hall of Fame, Roy had shot 200,800 registered PITA targets. He has been on the men's All Star team 13 times including twice as a veteran. Roy ranks 3rd in the State of Washington for trapshooting wins with 540, 243 of them in the PITA. Roy was inducted into the Washington State ATA Hall of Fame in 1991.
Among, Roy's many PITA achievements, the most notable were at the PITA state shoots and the Grand Pacific. At the Washington State shoots he has a total of 16 wins, 11 runner-up, 3 HOA and 2 HAA. Other wins include the Doubles Champion in 1980, Singles Champion in 1982, HOA and HAA in 1975. At the Grand Pacific he has 9 wins and one class HOA. He was Singles Champion in 1992 and Veteran Singles Champion in 1998. At other PITA state shoots Roy has 11 Out of State Championships, 12 runner-up, 2 HOA and 3 HAA. Roy was on the five-man team that set a record of 991×1000 at the PITA Grand (Roy has 199×200).
Roy has served as President of the Washington State PITA and also served on the Executive Committee for many years. Roy took a lead role resolving the financial turmoil within the PITA when leadership was needed. The reason that the PITA is solvent today is because of dedicated people like Roy Tiegs. Roy is a welcome member of the PITA Hall of Fame and very deserving.