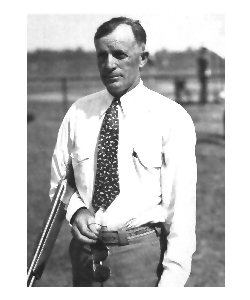 Ted Renfro was from Montana and was one of the three people that helped start the PITA, O.N. Ford's letter that is in the Hall of Fame room indicates that J.O. Cotant and Ted Renfro were there to help O.N. Ford get this organization on its feet. Renfro was successful in brining Montana into the PITA; it seems that after Ted quit shooting in the mid 1940's, Montana kind of drifted away from the PITA.
In 1931, Ted's singles average was 97.60 and Handicap was 96.00. Doubles was 96.50. He also won the PITA State Doubles Championship with a 191×200. He won AA Class singles and the preliminary handicap with a 94 from the 24 yard line. At that time 24 yards was the longest yardage one could attain.
At the Grand pacific he won the handicap with a score of 98×100. He also was the HOA champion with 871×900. The Grand Pacific also had handicap special trophies. Ted was the only person to win all of these trophies: The Rogue River, The Klamath Lake Hunting and Fishing Club, and the Charles Lindermann Trophy.
Ted had a long run record of 240 straight from the 24 yard line. A record that stood for some time. This long run was unheard of in those days. In 1938 Mr. Renfro won the Grand Pacific Doubles championship with a 94×100, the Handicap Championship with a 99×100, and the HAA with a 390×400. He also won the PITA Eastern Handicap with a 97×100.
Another of his achievements was a long run in singles of 376 in 1938. In 1939, Ted's average led the state with singles at 96.52, handicap average of 94.85 and doubles at 91.00. Ted also won the High Gun trophy at the Montana State Shoot with 1070×1100.
Ted completely dominated in Montana, he was also one of the original people to donate a perpetual purse of $ 50.00 for the Montana State Shoot. His averages were high even for today's shooters, but they were truly remarkable for the time period and Ted deserves to be honored by the PITA Hall of Fame