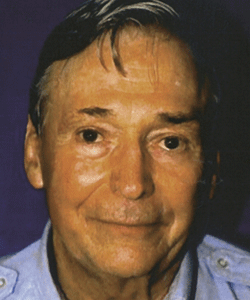 Don started shooting non-registered trap in 1954, joining the ATA in 1959 and the PITA in 1960. Don has shot over 150,000 registered targets and had won over 200 trophies from 1962 until he stopped counting in 1995. One of the highlights of his shooting career was beating Dan Orlich in a handicap shoot-off at the Grand Pacific in 1962.
Don has been very active in the workings of the PITA and has been the parliamentarian for the State of California and the PITA for many years.
He was on the Central Handicap Committee of California from 1968 to 1971. He then turned his expertise to the PITA and was on the Executive Committee from 1971 through 1975, when he became the President of the PITA. He was chairman of the Rules Committee from 1976 through 1978. He is still a member of the Rules and Handicap Committee.
In 1973 Don re-wrote the PITA rule book. Also in 1975, Don formulated the first formal PITA rules committee procedures. He also wrote many changes to the By-laws for the PITA.
He has been responsible for simplifying many of the procedures of the Rules Committee. Don has made several contributions to our By-Laws and Rules because of his extensive knowledge of parliamentary procedure.
We also know Don as the man that takes pictures and submits the shoot reports for publication. He often sends these pictures to the shooters for their personal enjoyment. We are inducting Don into the Hall of Fame, not only for his shooting ability but also for his many contributions to the PITA.