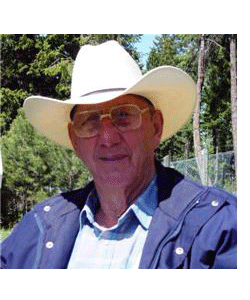 Affectionately known in Canada as the "Cowboy", Scott was born and raised on a homestead just south of Kamloops, British Columbia. An expert rifleman, Scott developed a love of trapshooting in the late 1940's and registered his first PITA targets in 1963.
Scott has been an active member of the Kamloops T&S Club since the 1940's and has held many positions over the years. Scott was a major supporter and helped with the formation of the TOSL shooting league for Okanagan shooters in the early 70's. He has also provided guns, shells, transportation, and accommodations to many shooters over the years in his local efforts to promote the sport.
From 1976 until 1982 Scott was the PITA Central Handicap Committee Chairman for the Province of BC. During this time he traveled 45 weeks out of every year and handicapped at every club in BC. He was also instrumental in signing up many of the clubs for their first PITA registered shoots.
In 1982, Scott's hard work and integrity were recognized by the PITA and he began serving on the Executive Committee. He became only the third Canadian to become President of the PITA and served in this office from 1986 through 1987. During these years he registered and handicapped shoots in every PITA State and Province. While serving as President he put a great deal of work into hosting one of the most successful Grand Pacific's ever – and it was held in Canada.
Scott's many shooting accomplishments over the years include:
• Registering 275,000 PITA targets
• Reaching the 27 yard line in 1990
• Many 100 and 200 straights in singles
• First shooter to break 100 straight at Port Alberni in 1980
• First shooter to break 200 straight at Nanaimo in 1982
• AA Singles Champion four years in a row at Vancouver Island Rangers Western Canada shoot
• Earning the nickname "Old 99" for his 26 scores of 99 over a two year period
For over 25 years, Scott shot and helped at almost every PITA State and Provincial Shoot each year. He attended over 130 State and Provincial shoots along with almost 30 trips to the Grand Pacific. His white Stetson was recognizable from West Virginia to Alaska and from California to the Yukon Territory. His home is literally filled with dozens of "Appreciation" plaques and trophies from Gun Clubs all over the west. Scott's help and attendance at these many shoots did not go unnoticed or unrewarded and he treasures them all.
Much of the success the PITA enjoys today, including a strong Provincial association in BC, and increased Canadian attendance at the Grand Pacific is the result of the effort and hard work Scott put in to promoting the sport and the PITA over his long and distinguished career. Scott is a true PITA competitor and one of its most recognizable ambassadors on both sides of the border. His honesty, dedication, diligence and astute ability as a handicapper have earned him the respect of shooters everywhere.
Without people like Scott we would have no local gun clubs, no state or provincial associations and no PITA. We thank him for his years of dedication to the sport of trapshooting and welcome him as a member of the PITA Hall of Fame.