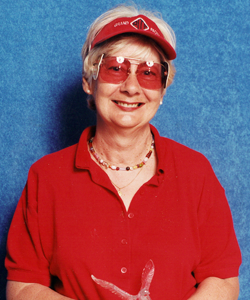 Pat was asked in May of 2004 what she considered to be the highlights over her 34 years in the PITA. Initially she answered that it would be her HOA and HAA at the Grand Pacific. Later she said no…that it was really the friendships and the camaraderie.
Pat began shooting trap in 1967. Her own list of success as a shooter is lengthy and impressive. "Lady Champion" and "High Lady" appear repeatedly in the stats between 1982-2002, at shoots all over the Pacific Northwest. Pat's 1991 achievement of Lady Champion HOA and HAA at the Grand Pacific is truly a "Grand" accomplishment. Closer to home, Pat has been Lady Champion at the BC Provincials five times.
In 1997, Pat registered her 100,000th PITA target. Along the way, she was a member of the PITA All-Star team 18 times and was a member of the BCTA All Star Team 8 times. Her first 100 straight was in 1991 and she reached the 27 yard line in 1992. She has received 9 honorary punches from the 27 yard line. In 1992, Pat achieved AA-27-A. Her shooting ability is to be envied with her high averages of 97.0 in Singles, 91.29 in Handicap, and 87.74 in Doubles.
After getting her feet wet with 26 years on the Kamloops Trap & Skeet Club Executive Board, Pat went to the next level and served on the PITA Executive Board for over 11 years. In 1998, Pat became the first woman elected to the PITA Executive Committee, and in 1992 became the first woman President of the PITA. She went on to serve on the PITA Hall of Fame Committee.
Pat's enthusiasm is unmatched. Scores are only one measure of a sports achievement and though Pat is impressive, the lasting legacy will be her service to our sport and its participants. Pat treasures the "Attaboy" feeling she gets from giving everything she does her best effort. A quote: "If you have a happy heart, in anything you do, you can excel". Pat has made a difference