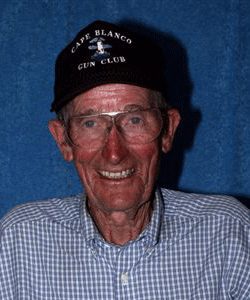 What set this man apart from other shooters who have great shooting accomplishments was his affection for fellow shooters and the unrelenting desire to contribute of himself. Gary kept involved in creatively helping his community or a gun club that needed a little incentive, guidance or spark. The energy that emanated from him was truly remarkable, and even more remarkable was the contagiousness of the good he accomplished. If Gary was leading a project, you can bet there were some enthusiastic followers.
At the Toledo VFW Trap Range, where he was very involved, he organized fun and meat shoots for the benefit of local charities and families, raising thousands of dollars that went directly to those in need. Gary truly made every moment count toward whatever project or goal he was working on. His enthusiasm for life and jovial spirit filtered down to all those having the pleasure of being around him.
Gary was born in 1933 to George and Mary Morlan of Portland, Oregon, the founders of George Morlan Plumbing. He served in the National Guard, the Navy during the Korean War, and the Air Force. He also worked as a police officer in Atwater, CA. As you can see, his past history shows the same dedication to mankind as we knew him for during his trapshooting career.
Gary's passion for trapshooting took on a life of its own when he and his wife Leone moved to Newberg. This is where he was tagged "Marathon Man" because his sights were set on breaking records. To quote Gary "Records Shall Be Broken", and indeed they were.
At age 69, Gary began setting records in the PITA by shooting 3,500 targets in one day, 13,700 targets in one week, 22,500 targets in one month, and 132,300 targets in one year. His goal to be the first to shoot 500,000 registered PITA targets was accomplished shortly before his death in 2004.
Gary's dream to see the Oregon State PITA Shoot again held at the Hillsboro Trap & Skeet Club was also accomplished in 2004. Gary, along with others, worked and solicited diligently to get that club back on its feet. As a result, the 2004 Oregon State Shoot held in Hillsboro was a huge success. All who attended felt his presence, especially when a squad of his close friends fired their final shots of salute to this powerful friend and humanitarian.