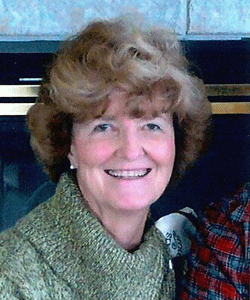 Rosemary is a resident of Washington State and began trapshooting in 1975. She was introduced to the sport by her husband, Dan. Dan bought a gun from Rosemary's dad and took her out to shoot a few targets. She surprised Dan by hitting more than a few. So, off to the Kenmore Gun Club where Rosemary shot her first practice round and the journey began.
Rosemary and Dan were married in 1977, the Friday of the Evergreen Gun Club President's Day Shoot. Their honeymoon was spent at the club.
Rosemary has registered 163,000 PITA targets. 1978 was the first year she became a member of the Ladies All Star Team and since then she has added another 19 years. Rosemary broke her first 100 straight in singles in 1985 at the Skagit Gun Club, and around 1992 she made it to the 27 yard line. She has won a number of Washington State Lady titles in singles and handicap and in 1979 and 1989 she logged PITA Ladies Singles Championships at the Grand Pacific. Her very first shoot off was during the 1979 Grand Pacific against Betty Phipps to secure the Championship.
For twelve years Rosemary served on the board of the Paine Field Gun Club which closed about 15 years ago. She and other members of the gun club have been diligently working to obtain approval for building a new club in Skagit County. The group has the approval from the Skagit County Commissioners, but continues to face hurdles. Hopefully, their dreams will soon come true.
During the early years of shooting, Helen and Fritz Watkins latched onto Rosemary and Dan and became their mentors. The best advice she received from Helen was the "three C's" of trapshooting:
Coordination – you either have it or you don't
Concentration – you put it all together to break targets
Confidence – you have to believe in yourself
Rosemary claims trapshooting is the best sport to meet the greatest people! Rosemary is currently active and serves on the Board of the WA State PITA.