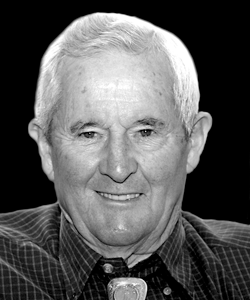 Chuck was born in 1920 and raised not a mile from where he currently lives in Harrisburg, Oregon. During his teen years, he and his brother Dean, along with their dog Pat, started hunting birds. It was not at all unusual for Chuck and his close friends to leave school at lunch time to hunt pheasants and ducks. Over the years, Chuck has been an avid hunter as well as a trapshooter.
Chuck and his wife, Donna, his constant companion, were married for 54 years and raised two daughters, Gloria and Shirley. In the mid-1940's, he started farming bluegrass and developing equipment to harvest the very small seed. In the 1970's he was greatly involved in the Tee-to-Green Association which developed a type of golf course grass seed.
Although Chuck began shooting 50 years ago, his trapshooting career started in the 1970's. He has shot targets from Florida to Alaska and from Hawaii to Arizona. He became a PITA life member in 1973 and over the years has been an active supporter of the organization at the executive and state levels. Chuck served on the PITA Executive Board from 1977 to 1982 in numerous capacities, including the presidency in 1983 and 1984. At the state level, Chuck served as a board member and was President of the Oregon State Trapshooting Association in 1981. To date, Chuck has shot over 250,000 PITA targets.
Highlights of Chuck's career include:
• His first handicap win at the Cottage Grove Gun Club in 1963. He broke a 99 from the 21 yard line.
• Shot his first 100 straight from the 16 yard line in 1979.
• Attained the 27 yard line in 1976 at the Vancouver Gun Club.
• Broke his first 100 straight in doubles in 1982 at the Roseburg Gun Club.
• He was Grand Pacific Doubles Veteran Champion in 1986 and 1988.
• Many Grand Pacific wins in the Senior, Veteran, and Elder categories.
• Numerous Oregon State wins in all three disciplines.
• Chuck attained a position on the PITA All – Star Veterans Team in 1989, 1990, and 1992.
• A major contributor to the Cottage Grove~Eugene Sportsmen's Club.
Despite all the awards and honor Chuck has racked up over the years, he considers the greatest prize to be the hundreds of dear friends he has made during his shooting career and while traveling. He is especially thankful for Virginia, his shooting, hunting, and traveling companion.