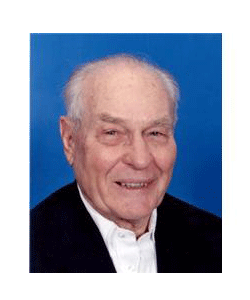 Herb was born in 1926 in Kent, Minnesota. At the age of four, his family moved to Helena, Montana. In 1944, he joined the Army Air Corps. Following his discharge, he returned to Montana. In 1952 he graduated from Denver University with a degree in Civil Engineering. Upon graduation, he accepted a job with the California State Highway Department.
While working in California, he met and married his wife Connie. Herb and Connie have been married for over 50 years and have four children and nine grandchildren.
Herb received a Masters Degree in Public Administration from the University of Alaska in 1971. He served as the City Manager of five cities in California and Alaska. While in Alaska, he also worked as a hunting guide, which fell right in with his hobbies, hunting, fishing and trapshooting. He retired in 1986.
Herb's trapshooting career began in 1964 at the Palmdale Fin and Feather Club in California. Over the years he has been a member of numerous clubs throughout Alaska, California, Washington and Hawaii. In over 40 years of competition he has shot trap in many of the United States and the Provinces of Canada. Herb was instrumental in establishing the Alaska State PITA Hall of Fame.
His shooting accomplishments are many:
• He was on the PITA All Star Team in 1992, 1993, 1994, 1996, 1997, and 2000.
• He has been on the Washington State High Average Team in 1997, 1998, 2000, and 2001.
• Numerous Grand Pacific and state level wins between 1982 and 2004
• Reaching the PITA 100,000 milestone in 1999
• His induction into the Alaska Hall of Fame in 1993
• Serving as President of the Alaska State PITA in 1985-86 and 1989-93
• He has shot 37 100 straights from the 16 yard line, his first in 1979
• Shot 100 straight in a handicap in 1965
• Attained the 27 yard line in 1993
Herb, along with other shooters, worked to establish the Valdez Shotgun Trap Club in 1975 and in 1985 the shooting range in Waikoloa, Hawaii. He currently serves on the Boards for the Bellingham Gun Club and the Lynden Shotgun Club. Annually, Herb donates much of his time and resources to the sport of trapshooting including the FFA student's trapshooting competition held in Lynden, WA.