Shooting Accomplishment Inductee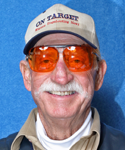 Previously inducted into the California Trapshooting Hall of Fame, the late George Reppas will join the ranks of PITA Hall of Fame in 2009.
Respected and admired by shooters, his accomplishments are numerous. He was known as the "weekend warrior" to many for his determination and persistence in shooting. His devotion to his family and business didn't always allow him to compete in every shoot, but his records in singles and doubles show his great talent.
Not only did George succeed in shooting, he also devoted time to coaching and to mentoring many shooters. He coached Scout troops, new and novice shooters and hunters. He was always available to answer questions, to solve shooting problems, to look at a gun fit and vertical setups, and never asked for payment.
An inspiration to many shooters who may have given up because they were new or just starting in their middle years, George was always there to support, provide patience for those who were struggling.
A few of George's accomplishments:
AA27AA
Shoot over 100,000 targets
PITA All Star – 5 years
California State Shoot 1974 – AA Singles (200×200)
California State Shoot 1980 – AA Singles (199×200)
California State Shoot 1981 – AA Singles (198×200)
California State Shoot 1982 – HAA (391×400)
California State Shoot 1982 – HOA (674×700)
To be admired for wins and also for selfless devotion to the sport, George Reppas will be remembered as a champion in all areas.