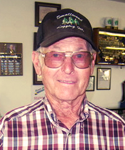 A native Oregonian, Bob Bounds was born and raised in Eugene, Oregon and has lived in the area his entire life.
Bob enjoyed hunting with his uncle and dad when he was younger and was able to hunt with his father until his dad was in his 70's. Bob's love of hunting has taken him from Alaska to Montana and many places in-between.
Bob has had his own woodcraft and custom cabinet business for 50 years, and continues his name with one of his sons who runs and operates Bounds Construction.
Bob registered his first targets in 1987 at the Salem gun club with the encouragement of his friend Del Jeske. From there, with the encouragement of his three children, and the support and devotion of his wife, Pat, he began his shooting career.
Bob has shot 160,000 registered targets and been a member of the PITA All-Stars eight times (1994-99, 2001, 2004). Bob also has a number of Grand Pacific category wins in singles, handicap and doubles, as well as a numerous Oregon State wins. He has been active in the PITA association for 22 years, involved with the Oregon State Board, and has supported Cottage Grove Gun Club.
He still shoots with the same 303 Beretta that he has shot for years.
"I never dreamed I would be in the Hall of Fame", says Bob. PITA members, welcome Bob to the PITA Hall of Fame.