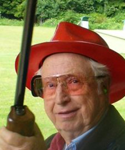 Saskatoon, Saskatchewan is the birth place of Robert Hopkins, one of PITA's 2010 Hall of Fame inductees.
Bob Spent most of his youth working the family chicken farm in Duncan, selling eggs or working in the family garden. Various jobs filled his years after graduation from high school until he joined the Air Force and spent 3 ½ years as an airplane mechanic during the war years. Using his benefit package he entered trade school and became an electrician, and worked his way up to senior electrician.
His shotgun career began as a kid hunting pheasants and grouse around his home area. In 1947, Ken Berkey encouraged Bob to shoot clay targets at the old Victoria Gun Club, with Bob shooting his first registered targets in 1954. His first trap gun was a 16 gauge side-by-side.
His involvement with shooting was evident when he became president of the Cowichan Valley Gun Club in 1966 and filled that position through 1977. Bob served as BCTA's vice president in 1981; then president 1982-85. He was also served as Victoria Island Zone representative/BCTA 1982-85, and 1987-2002.
Shooting his 200,000th registered PITA target at Vernon Sept. 2000, is his most memorable shooting accomplishment. Bob went on to shoot his 250,000th PITA registered target on April 19 2008, at the Vancouver Island Championships shot at Bob's home club, the Cowichan Valley Trap and Skeet Club Duncan BC.
Bob was on the PITA Veteran All-Star team 1989-99. And, over the years, he was won numerous provincial category events.
Bob's many trapshooting friends make up his family and have supported him through the years. His accomplishments will long be remembered.
Welcome, Bob.