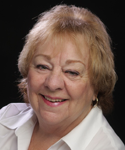 Barbara has provided outstanding leadership to the PITA. She served on the Executive Committee from 1992-2000. She served as VP twice and was the second lady to be elected president of the PITA, serving two terms in this position. While on the Executive Committee, Barbara was appointed to the first Hall of Fame Committee. She worked diligently and with much passion to establish 501.c.3 (tax exempt) status for the HOF. She served on the HOF subcommittee from 1995-2002.
Barbara's shooting career began in 1977 at the Evergreen Sportsmen's Club's President's Day Shoot. Over the years, she has proven to be an outstanding competitor. Some of her accomplishments include:
§ Shot 150,000+ targets
§ Making the Ladies All Star team eleven times.
§ Breaking her 1st 100 straight in 1997 at the Salem Gun Club.
§ Making the 27 yd. line in Reno, NV
§ Winning numerous husband and wife trophies with husband Marvin.
§ A number of Grand Pacific wins as well as Washington State wins. Washington State Lady wins: Singles – 1992, 2002, 2004-2005. Doubles- 1992. Handicap – 1984, 1997.
Barbara has proven to be a true ambassador for the PITA and sport of trapshooting. She wishes to share that her greatest accomplishment has been being a cancer survivor. Welcome Barbara to the PITA Hall of Fame.