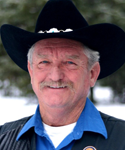 Burrell (better known by all of us as Bud) was introduced to shooting in 1954 by pulling and setting trap for the turkey shoots in the Chico, California area with his dad and uncles. Bud began shooting registered targets in the early 1960's, and has registered over 100,000 targets in the PITA. He has numerous 100 straights, and made the 27 yard line in 1993 at Cottage Grove, OR. Bud also was a member of the PITA All Star Team in 1999, 2000, 2002 & 2008. In addition to this, he has many wins at the Grand Pacific as well as the Oregon State Shoot.
Some of Bud's biggest accomplishments include:
Working on the OSTA Y.E.S. program for many years. He enjoys working with the "kids" – for they are our future.
Sixteen continuous years of service on the OSTA Board.
Serving on the PITA Executive Board from 2005-2009. He served as VP for 3 years and 1st VP for 2 years.
Serving as board member for the Redmond, Bend and Paisley clubs.
Starting the Paisley Gun Club.
Main player in getting the Nevada State Association back into the PITA program.
Over the years Bud has been a willing, energetic worker at any club he attends. Whether it be working on traps, setting targets, assisting with shoot offs, there's not a job too big or too small.