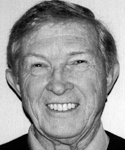 Bob has been shooting since 1961.He began in Eugene, Oregon where he now resides after a long corporate career allowed him to move to many cities and offered him the chance to
shoot at a number of different gun clubs.
His first win (in Oregon) was the 1963 PITA State preliminary handicap runner-up. Bob broke his first 100 in the PITA in 1977 at the Klamath Falls Club. The 27 yard line came in 1981 at the Oregon State PITA shoot in Salem.
Bob's favorite event is doubles where he has many wins. He has recorded many 99's but the elusive 100 straight has escaped him so far.
Bob has made ten All Star Teams (Men's Team, 1983-1985; Veterans Team 1998-2002, 2004 & 2007). In addition to trophies at the Grand Pacific and the Oregon State PITA State Shoot, he has wins at PITA State Shoots in Nevada, Washington and Arizona.
Bob has also served many clubs and associations over the years. He was president or director of clubs in Klamath Falls, Bend and Cottage Grove.
Bob recently said, "I have been fortunate to shoot with many of our best, mostly my best shooting buddy, Del Jeske. Del is responsible for most of my success, as we have spent many hours discussing, practicing, refining, and improving our shooting. Everyone I have ever shot with has influenced me in some way, as we have the finest people ever in this sport."