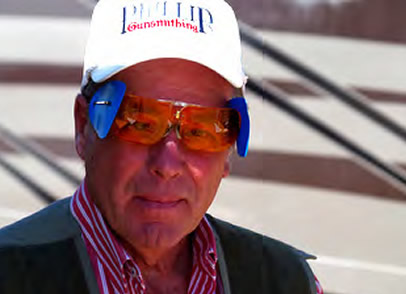 Tom began shooting in his home town of Granite Falls, WA. In 1980 a friend talked him into shooting targets at the Granite Falls Sportsman Club. He joined the club, and as a member, he participated in logging, land clearing, and the addition of a 4th trap by donating the use of his equipment and time.
In 1981 he shot his first registered targets at clubs close to home, like his home club Paine Field, Skagit, and Bellingham. His first 100 straight was shot in 1982 at the Paine Field Gun Club in Everett, WA, and he achieved the 27 yard line in 1987. In 2005 he made the PITA All-Star Team for the first time, and was selected for the team for a total of 9 times.
A special year was 2008 when he won the Washington State PITA Singles Championship, outright, with a 200 straight. He then went on to win the honor of Champion of Champions at the Grand Pacific Shoot. In addition, at the Oregon State PITA Shoot, he won the HOA for out of state. In 2007, at the California State PITA Shoot, he won out of state doubles, HOA and HAA.
By the end of 2016 he only had 375 targets to got to reach a total of 170,000 registered PITA targets shot in this career, so far.
He shoots a PERAZZI MX8 Combo for all events. For a one-eyed shooter, he prefers to shoot at gun clubs with an open background.