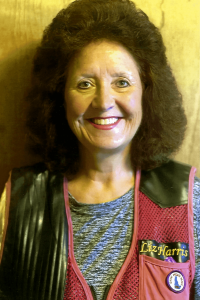 Liz (Kohlbecker) Harris began her trapshooting career at the Boise and Caldwell gun clubs in 1982 and shot her first registered targets in 1984. She won her first major trophy at the 1985 Idaho PITA state shoot.
Over the next 35 years, Liz won over 80 times at state shoots in Oregon, Nevada, and Idaho. She had over 20 wins at the PITA Grand Pacific events as well as 20 wins at Idaho PITA state shoots. Grand Pacific highlights over the years include winning the Ladies Champion of Champion two years in a row, winning the Ladies Singles championship with 198 (which included her first 100 straight), and winning High Lady in eight different handicaps.
She has been a member of the Idaho PITA All-Star team 29 times – six times as Captain or Co-Captain of the Ladies team, and she became the first woman shooter from Idaho to register 100,000 PITA targets. Her longest shoot-off was 125 birds for an Idaho ATA Lady Singles Championship (which she won).
Over the years, Liz served on the Boise Gun Club board, the Idaho PITA board, and the PITA Hall of Fame board. For over 25 years, she was the unofficial assistant to the Idaho PITA state secretary and helped write, print, and mail thousands of programs, newsletters, and schedules for both the Boise Gun Club and the Idaho PITA.
Most people take from a hobby they enjoy. But not near as many give back as much or more than they get out of it. Liz Harris is one of those rare people that received tremendous enjoyment out of trapshooting, but also was able and willing to do what was necessary to ensure the success and continuation of the sport she loved.